The latest data on the number of job openings showed over 7.3 million jobs available in the U.S. in February. This was a higher number than anticipated and the highest number of job openings in two years. TradingEconomics This may also be the reason that jobless claim filings dropped last week. The claims numbered 576,000, dramatically down from the 769,000 claims of the previous week. Last week's jobless benefit filings were the lowest since the start of the pandemic. The economy is opening up, jobs are being listed and jobless claims are dropping. Although there are signs that things are headed in the right direction, there is still a long way to go to heal the economy and for jobs to fully recover. For example, jobless benefit claims are still far higher than the 2019 weekly average of 218,000. WSJ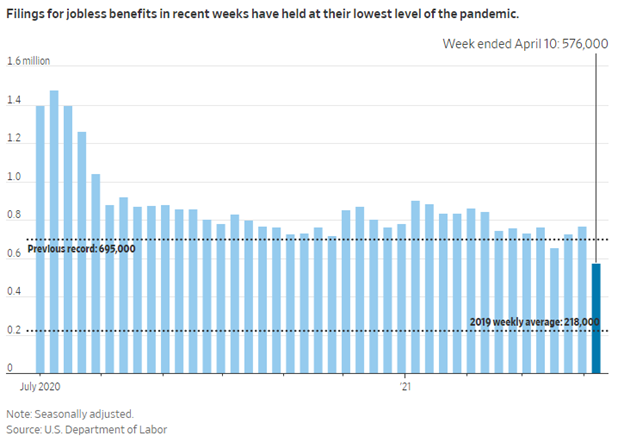 Chart Source: Wall Street Journal
The President's Foreign Policy Takes Shape: President Biden has spent his first few months in the White House domestically focused on fighting COVID and its economic consequences. But he has recently become more engaged in foreign policy and trade. Regarding trade, though the President paused tariffs on European wine, much of the previous administration's trade policies have remained in place. Wine Spectator Wash Post Gone are the unexpected tariffs and trade policy announcements, making those with supply chains happy. The biggest change has been more in tone and style. The Hill On other foreign matters, the President has carved out an approach of working multi-laterally with allies while being direct with adversaries - though not so hard-lined to allow for room to work on shared interests. The Economist
Teaching Kids About Investing: Many of our clients want to pass along healthy savings, spending and investing habits to their kids and grandkids. There are many ways to do so, such as setting up a weekly allowance or custodial investment accounts. Some of our clients have set up Custodial Roth IRA accounts for teenagers working their first jobs. Roth IRAs can be a great way to learn about compounding and it also lets them get an early jump on retirement saving as well! MarketWatch
Quick Hits for the Week:
Planning a COVID-Safe Vacation: Even after being vaccinated, there are a lot of questions to ask about safe travel – "Should I wear a visor on a plane? How should I choose a hotel or resort? What are the latest restrictions on international travel?" Click on the links for answers and how to plan your vacation this summer. Bloomberg Pursuits Scott Dunn Travel Updates
The Perfect Warm Weather Wine – Sauvignon Blanc: The days are getting warmer and for many wine drinkers that means less red, more white. I love New Zealand Sauvignon Blancs. They are crisp, grassy, with a hint of citrus that is wonderful on a warm, sunny day. Last year was also a great year for NZ SB so now is a good time to stock up. Another bonus about the varietal – it is tough to even find an expensive bottle and there are plenty of great options under $20! Cheers! WSJ
How to be Happy: A Yale professor found her students struggling with mental health so she developed a course designed to increase happiness and to build more productive habits. The course covered misconceptions about how to achieve happiness, the problems with how we frame expectations, and how to overcome biases. It proved so popular that Yale created an online course that is free to everyone. Over 3 million individuals have participated. So what are some of the findings? Making sleep a priority, practicing gratitude and meditation, and doing things for others improves one's mood. NYT Coursera
Thank you for reading The Friday Buzz! Feedback is welcomed and please forward this to a friend! Be well, take care, and stay safe!