The Federal Reserve Chair, Jerome Powell, spoke this week at the National Association for Business Economics. He stated the central bank would be willing to raise short-term rates aggressively to combat inflation and he was open to raising rates by a half-point if necessary. The Fed Chair has become more hawkish in his comments over the last couple of months as inflation has remained stubbornly high. The rate-setting committee at the Fed is also expecting rates to go much higher. The "Dot Plot" is the reflection of the committee's expectation for short-term rates in the coming years. The chart below displays the committee's expectations as of last week which is for short-term rates to reach 1.75% by the end of this year and 2.75% by the end of 2023. The rise in short-term rates could potentially lead to higher rates for mortgages, auto loans, and credit cards. The Fed is hoping that higher rates will slow consumer demand and the outsized demand for workers leading to wage and price stability. ABC News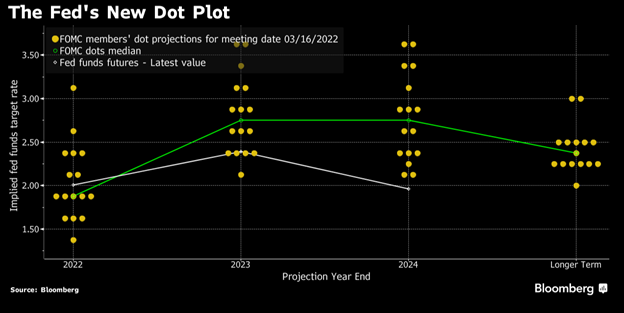 ESG Company Board Announcement: I am happy to announce that I have joined the advisory board of a private company, SPARC Impact. The company provides Environmental, Social, and Governance (ESG) data on publicly traded companies to institutional investors. I previously worked at an ESG asset management company giving me some background into the inner workings and history of ESG screening. The work should not be time-consuming and will not interfere with my efforts at RSWA. I've been involved for the last few months and have found it to be interesting and enjoyable! SPARC Impact
RSWA Webinar Series – Understanding Cryptocurrencies: Mark your calendars, the next RSWA webinar will be Thursday, April 21st at 4:00 PM. We will host a cryptocurrency expert to give an overview of how they work. We do not recommend our clients invest in cryptocurrency due to its speculative nature, but we want to provide information on the topic since we periodically receive questions. Look for the invite in your Inbox soon and the links provide some info to get you started. The Latecomers Guide to Crypto – NYT Investopedia
Russia-Ukrainian War Notes:
RSWA Financial Planning Articles: Recently, we have updated our financial planning and investment articles on the RSWA Blog. In addition to our weekly newsletter, we periodically write on topics that may interest our clients and the public. There are articles on IRA Qualified Charitable Distributions, Estate Planning, how to reduce Concentrated Stock positions, and many more. Feel free to peruse our library of articles and share them with your friends or on social media! RSWA Blog
Quick Hits for the Week:
The Academy Awards: The Oscars will be handed out this weekend. I usually peruse the nominations to find something good to watch and I think Belfast will be next on my viewing list. I even periodically look at previous winners to see if there was something I missed. I still can't believe Shawshank didn't win in '94 but it's hard to argue with Forrest Gump winning. Enjoy the ceremony, popcorn, and movies! The New Yorker CNET Academy Award for Best Picture - Wikipedia
Delightful Nepalese and Indian Food! Two of my favorite Portsmouth restaurants were recently highlighted on NH television. Durbar Square offers Nepalese food which many people haven't tried but I find it delicious! My family loves the vegetable mo-mo appetizer and I usually can't stop myself from ordering the mushroom chili. Indian food has been a favorite of mine for decades and Shalimar has always been on the restaurant rotation. Papadum, samosa, and aloo mutter is my favorite order. If you haven't tried food from Nepal or India, I highly recommend it. What are your favorite dishes? NH Chronicle Durbar Square Shalimar
Quote: "We don't stop playing because we grow old, we grow old because we stop playing." George Bernard Shaw
Enjoy the weekend. Thank you for reading RSWA Financial Advisor Insights! Feedback is welcomed and please forward this to a friend! Be well, take care, and stay safe!