The Federal Reserve announced it was raising short-term rates by .50% and shrinking assets from its $9T portfolio. The bank is hoping the increase in short-term rates and not buying bonds in the credit markets will raise interest rates and increase borrowing costs, and, hopefully, result in both slowing demand and lowering inflation. Bond yields have increased dramatically in the last few months resulting in higher borrowing costs for items such as mortgages. And there are signs that consumers are responding to higher inflation and pulling back on some purchases. AP News WSJ
Jerome Powell, the Fed Chair, commented that "Inflation is much too high and we understand the hardship it is causing. We're moving expeditiously to bring it back down." He also said, "there is a broad sense on the committee that additional 50 basis point increases should be on the table at the next couple of meetings, the economy is very strong and well-positioned to handle tighter monetary policy." Raising interest rates by half a percent is aggressive but he stated the committee was not considering hiking rates by more than that in upcoming meetings. Both the stock and bond markets rallied after the comments by Powell. Though the range of the Fed Funds Rate will now be .75% - 1.00% that is still relatively low by historical standards (see chart below). Many economists expect it to be approximately 2.50% by the end of the year.

Chart: St. Louis Federal Reserve
Q1 GDP's Strange Reading: The U.S. Gross Domestic Product (GDP) number for Q1 surprisingly declined by 1.4%. The markets had been expecting modest growth of approximately 1.0%. A big factor in the negative number was a drag of 3.2% created by a large trade deficit as companies restocked inventories and U.S. growth outpaced overseas growth. Other areas were up solidly, such as consumer spending up a solid 2.7%. These anomalies are expected to be less pronounced in future GDP numbers though growth is expected to be moderate going forward. The Atlanta Fed's GDPNow, an estimate of current GDP growth, is currently reading 1.6%. CNBC GDPNow
Woodstock for Capitalists: That is the nickname of Berkshire Hathaway's annual shareholder meeting. The presenters were the company's long-time partners, Warren Buffett and Charlie Munger, who gave their views of the company and economy. One takeaway was that Berkshire saw an opportunity in the recent market downturn and invested over 50 billion of cash in stocks, mostly in the energy sector, but also in consumer technology companies like Apple and Activision Blizzard. They stated they would view market volatility as an opportunity. They also acknowledged they were surprised by how high inflation has become but did not venture a guess as to where it was heading stating it was impossible to know. Barron's CNN
Financial Planning Corner...
Restricted Stock Units: Many of our clients hold Restricted Stock Units (RSUs) as a form of employee compensation issued in the form of company stock shares. They usually are not immediately owned by the employee but "vest" over time and are considered ordinary income for tax purposes. Once they vest, the shares are owned by the employee, and it is not uncommon for employees to continue to receive vested shares after retiring from the company. We have found RSUs useful for providing cash flow for the first few years of retirement and since they are considered income, clients can continue to fund Contributory and Roth IRAs. If you have questions about RSUs, please reach out to your advisor. Investopedia
Quick Hits for the Week:
The New Season of Barry: I watched and loved the first two seasons of the HBO series, Barry. The dark comedy was captivating, funny, and had great acting. The show was on hiatus for two years, but the third season has arrived, so I'll have to get back up to speed, but I am sure I will enjoy the new season. One of the key actors is Henry Winkler, who has found fame again with Barry and received his first Emmy. I read a recent interview about Winkler and was surprised to learn how awful and troubled his childhood was. Very interesting and worth a read to hear about his upbringing and his acting career. NYT - Henry Winkler Interview Barry | HBO Max Originals
Running to Burn Calories: If you are running to burn calories, you may want to speed up periodically. Research has shown that your body will find a pace that uses the least number of calories. It makes sense when you think that food used to be scarce, so our bodies were designed through evolution to be as efficient as possible. So, if you are running to trim down, be sure to increase your speed from time to time (be careful and don't overdo it and check with your doctor!). WSJ
Congratulations Donovan! And speaking of running – our very own Donovan Ingle completed the Providence, Rhode Island Marathon last weekend. Not only did he finish but he placed 8th in his age group (one of the toughest!) and 14th overall! Wow! Congrats Donovan! Here are some pics of the happy finisher! 2022 Providence Marathon Results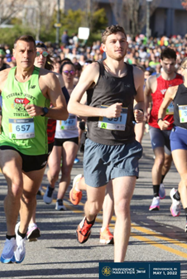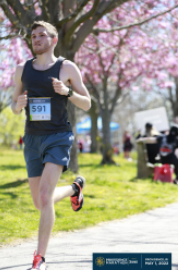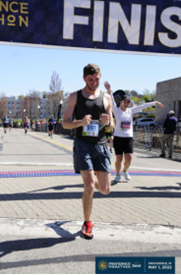 Road Running Series: The Seacoast Race Series is a series of races to promote running/walking and fitness on the Seacoast while benefiting local non-profits. There are seven races in total, with proceeds going to local non-profit organizations, and if you sign up for the series and complete five of the races (including two 10Ks) you win a jacket. There is no cost to sign up for the series but there are registration fees for every race. The first race is on May 29th at the Cisco Brewery in Portsmouth. Donovan, Wendi, and I are signed up for the series. Does anyone else want to join us? Seacoast Road Race Series Cisco Brewers Portsmouth 5K
Quote: "A lot of people run a race to see who is the fastest. I run to see who has the most guts, who can punish himself into exhausting pace, and then at the end, punish himself even more." Legendary runner, Steve Prefontaine
Quote about running that is a little less intense (OK, a lot less intense): "It doesn't matter whether you come in first, in the middle of the pack, or last. You can say, 'I have finished.' There is a lot of satisfaction in that." Fred Lebow, co-founder of the New York City Marathon
Enjoy the weekend. Thank you for reading RSWA Financial Advisor Insights! Feedback is welcomed and please forward this to a friend! Be well, take care, and stay safe!