Europe's Energy Dependence on Russia: Energy provides a prism for understanding some of the key Russia-Ukraine war issues and for geopolitics in general. To that end, news that the U.S. intends to massively ramp up shipments of liquified natural gas ("LNG") to Europe this year has more significance than just the immediate economics. The goal is to replace approximately one-third of the LNG that Europe imports from Russia. Strategically, the U.S. and Europe want to wean Europe off heavy dependence on Russian gas and oil and reduce Putin's options for petro financed aggression. Washington Post.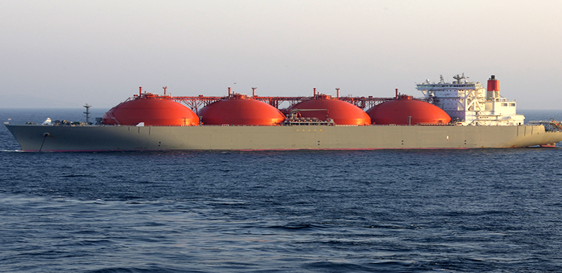 Department of Energy
Russia Signaling a Major Strategy Shift? Russia may be refocusing its military objectives in Ukraine toward seizing and controlling territory in southern and eastern Ukraine, as opposed to capturing Kyiv and other major Ukrainian cities. Why? This could be a feint, but in all probability reflects the reality on the ground. Russia cannot capture Kyiv. Its military operation failed, and it is onto Plan B. The other likelihood is that Putin wants to control the narrative at home and prepare Russians for an "ugly compromise" that falls far short of the original goal of regime change. Vlad is not having a good war. Reuters New York Times Wall Street Journal
Canada and Commodities: Canada is one country that is benefitting from the Russia-Ukraine war. It produces many of the same commodities and crops as does Russia and is seeing major global interest in striking new trade deals. These commodities include oil, wheat, nickel, potash, and uranium. Wall Street Journal
Home Sale Tax Bill? Sellers for decades have rarely faced paying capital gains tax on the sale of their primary residence due to the $250,000 gain exclusion for single sellers and the $500,000 gain exclusion for married sellers. But with home prices soaring, taxpayers may be in for a surprise. See your financial advisor and accounting professional for advice and insight into the nuances. New York Times
Short Takes:
A Quote to Consider: " Between thought and expression lies a lifetime." Lou Reed
RSWA Webinar Series – Understanding Cryptocurrencies: At our next online seminar on Thursday, April 21st at 4:00 PM, a cryptocurrency expert will provide an overview. We do not recommend our clients invest in cryptocurrency due to its speculative nature. Most financial advisors are uncomfortable with crypto. Wall Street Journal But we do want to provide information on an important topic. Look for the invite in your Inbox soon.
If you know someone who would like our newsletter, please share it with them.
As always, thank you for reading. Stay safe and be well. We look forward to hearing from you and connecting.