Mortgage rates have spiked higher and are approaching levels last seen in 2018. This week 30-year mortgage rates approached 5.00 percent, the highest since 2018 (see chart below). Applications for mortgages have been falling for months and fell another 10% the last week. They are now down 40% from a year earlier. CNBC
Higher mortgage rates will certainly start to eliminate demand in housing as buyers are priced out due to higher monthly payments. But it still might not be enough to cool housing prices. There is a shortage in housing supply and some workers are looking for new residences outside of city centers due to remote work. Higher mortgage rates will only dampen some demand but it will not offset all demand or the shortage in supply. Many economists believe higher home prices will be here for a while. NYT Fortune

The Office of the Future - Does it Have a Future? The pandemic shook up business norms and ushered in Work-From-Home (WFH). It appears it may be permanent. Office vacancy rates haven't been affected much but contractual leases may extend for a decade or longer. Therefore vacancy rates have a lag, though cracks are starting to show as vacancy rates tick higher. Office occupancy may be a better gauge of what is happening right now as it measures if employees are physically in the office. And we are nowhere near pre-pandemic levels. Before the pandemic, office occupancy was near 100% and now it is not even half of that (see chart below). And recent surveys indicate employees plan to only spend about half their time in offices going forward. If the trend becomes permanent, it will have profound effects not only on commercial office real estate but on work, lifestyle, transportation policy and city design. Axios Axios Bloomberg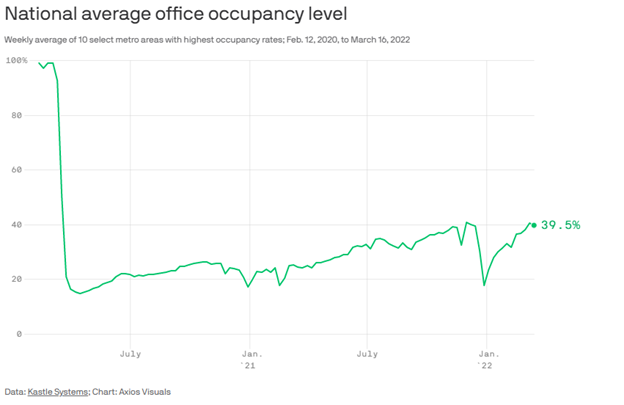 RSWA Webinar Series – Understanding Cryptocurrencies: The next RSWA webinar will be Thursday, April 21st at 4:00 PM. We will host a cryptocurrency expert to give an overview of how they work. We do not recommend our clients invest in cryptocurrency due to its speculative nature, but we want to provide information on the topic. You should have received an invite, but if not, let us know. Feel free to invite others that are interested in the topic and get your questions ready! It should be a great discussion!
Russia-Ukrainian War Notes:
Periodically Review Your Healthcare Power of Attorney: As with many estate planning items, it is easy to say that you took care of it years ago, so why revisit it. Yet it is important to review your estate planning documents to see if they still fulfill your wishes, especially if they were completed some time ago. One item is your Healthcare power of attorney (HCPA), which empowers an individual to make decisions on your behalf concerning medical care and treatment. States have different rules, so if you have relocated recently or in retirement, make sure your HCPA is still legal. Be sure to review your HCPA periodically and the individuals named. Consult your attorney or financial advisor if you have questions. Investopedia
Quick Hits for the Week:
The Power of Friendship: It is thought that the average number of meaningful relationships a person can maintain is 150. It is popularized by psychologist and researcher Robin Dunbar who found the range was 100 to 250 but the average was 150. The relationships can be grouped by who we spend the most time with as outlined by the graph below. Dunbar's most recent book titled "Friends: Understanding the Power of our Most Important Relationships" describes just how important friendships are and the number and quality of the friendships we have has a bigger influence on our happiness, health and mortality than almost anything else. In one linked article, one individual described themselves as practicing "aggressive friendship" by regularly inviting friends over and hosting events and outings. With the pandemic lifting, maybe we all need to practice a little "aggressive friendship" to reconnect with our friends! WSJ The Atlantic Amazon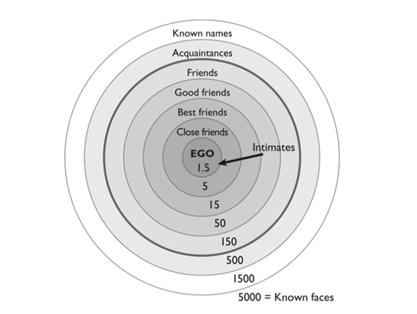 The circles of friendship (Courtesy of Little, Brown and The Atlantic)
Quote: "There is nothing better than a friend, unless it is a friend with chocolate." Linda Grayson
Enjoy the weekend. Thank you for reading RSWA Financial Advisor Insights! Feedback is welcomed and please forward this to a friend! Be well, take care, and stay safe!