Headline CPI Rises 8.5%: The government released the March CPI report this week, and it was a doozy. Prices rose 8.5% in March, compared to a year ago. It was the highest increase in 40 years. CNBC Washington Post Moreover, producer or wholesale prices climbed 11.2% in March, the largest increase in history. CNBC While the Fed has no control over supply, these numbers categorically affirm that the Fed must act aggressively to cool demand. Understanding that there is no putting lipstick on these inflation pigs, some additional context may be helpful.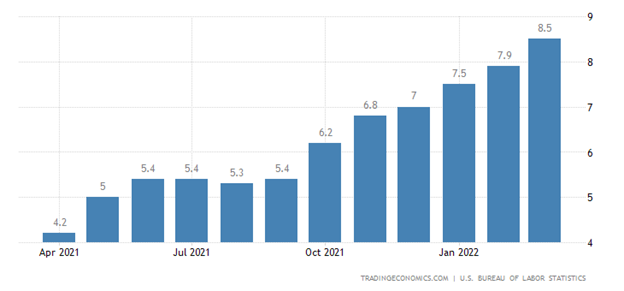 U.S. Economy Going Strong: We hear from some that the economy is doing poorly. While inflation is undoubtedly a genuine problem, the economy continues to do well. Indeed, economists expect the U.S. economy to grow 3.3% in 2022, net of inflation. Axios
Solid Earnings Growth: Consistent with the continued strong economic growth, S&P 500 Index earnings are forecasted to grow 4.0% year over year in the first quarter. FactSet
Globalization Is Over: Conventional wisdom had it that global trade would bring us closer together and minimize the chances of military conflict. In retrospect that may have been startling naive. David Brooks, one of our most thoughtful thinkers in my view, offers his insights into globalization, including global cultural wars. I highly recommend it. New York Times
Elon Musk Takes on Twitter: Elon Musk has accumulated a 9% position in Twitter but will not be joining its board. To the extent that Musk uses his power to pressure Twitter to reopen its platform to all, it will have major repercussions for all social media platforms and their right and/or duty to regulate their own content. Vox
Amazon's First Union? Amazon, the second largest U.S. employer, may be getting its first unionized workforce in a Brooklyn, NY workplace. This could have massive labor and employment implications, as Amazon was previously thought to be union-proof. The organizing was done on a grass roots level without the involvement and financial support of "big labor." NPR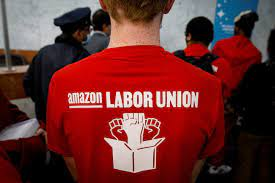 Short Takes:
RSWA Webinar Series - Understanding Cryptocurrencies: You should be receiving email invites to our next quarterly webinar on Thursday, April 21st at 4:00pm. We do not recommend investing in cryptocurrency for our clients due to its volatile nature. But we do want you to be informed. Axios sends out an interesting crypto e-newsletter that I have found interesting. Axios
A Quote to Consider: "You can observe a lot by just watching." Yogi Berra
If you know someone who would like our newsletter, please share it with them.
As always, thank you for reading. Stay safe and be well. We look forward to hearing from you and connecting.