ADP and Moodys released June's jobs report that showed an increase in private payrolls of 2.37 million. At the same time, in an incredible reversal, May's number was revised from a loss of 2.76 million to a gain of 3.06 million. CNBC Stocks have been rallying based on the economy reopening. The S&P 500 Index was up almost 20% in the second quarter, which was the second-best quarter on record and the best since 1998. WSJ Yahoo Finance
Meanwhile, the repairing of the economy will be dependent on the virus being contained and recent news for many states has not been good. New virus cases initially peaked in late April and were steadily dropping through the beginning of June. But since then, cases have increased dramatically and hit new highs. The increases are mostly in the south and west, while cases continue to drop or are steady in the northeast. Reuters In testimony this week in front of a Senate panel, Dr. Anthony Fauci warned new cases could top 100,000 per day about double where they are now. NYT Many states with escalating cases are now closing down bars, beaches, and restaurants. USA Today Stocks have still climbed.
Stocks and bond yields are popular leading indicators to gauge where the economy may be heading. I keep hearing from many that they feel stock markets are being too optimistic. And bond yields are now heavily influenced by the Federal Reserve. So, let's turn to another indicator, copper. I have written about copper in the past as a barometer for future economic activity because of its widespread use in manufacturing and housing. Here is a chart reflecting YTD copper futures contract prices: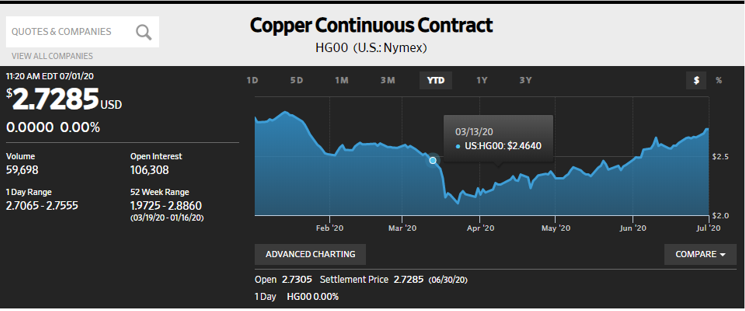 Source: The Wall Street Journal
Copper was at $2.88 in mid-January, a 52 week high, before concerns about the virus. It dropped precipitously to $1.97 in mid-March. As the chart shows, the price has steadily risen, including this week as virus cases increased, and now stands at $2.72, down roughly 5.5% from January's high. Commodity prices usually reflect global activity so this is also a reflection of China and Europe reopening their economies. But still, the U.S. is a big part of the global economy, and as of now, copper indicates global economic activity increasing.
Tax-Filing Extension Remains July 15th: The IRS confirmed that federal taxes will have to be filed by July 15th and it will not be extended. So get your 2019 filing and retirement account contributions in. Forbes
The Virus Hunters: Whether chasing shark viruses or the coronavirus, a group of San Francisco researchers tracks them down for research. They aim to use viruses' genetic markers to help make better-informed decisions regarding causation and spreading. It's worth reading, not only because Michael Lewis tells a great story, but the information and charts show how COVID-19 does not spread in an orderly manner. Bloomberg
Quick Hit Articles for the Week:
The World of Tea: I am more of a coffee drinker but do partake in tea from time to time. Many are starting to choose tea for it's perceived health benefits and high antioxidants. That is one reason my wife and I recently tried traditional Japanese Matcha. It tasted like my lawn but was tolerable, and hopefully, I'm a little healthier because of it. This guide will give you a few ideas of new teas to try. WSJ
Independence Day Weekend: Who was president on July 4th, 1776? I am sure everyone is looking forward to the long Fourth of July weekend. I hope you have a very safe, stress-free, and enjoyable weekend. We've all earned it after a challenging year so far. Why not take a few moments to test your Fourth of July knowledge with a quiz? BTW, John Hancock was serving as president of Congress in 1776. History.com LA Times Quiz
Freedom quote: "The great revolution in the history of man, past, present and future, is the revolution of those determined to be free." John F. Kennedy, 35th President of the United States.
Thank you for reading The Friday Buzz. Feedback is welcomed and please forward it to anyone who may enjoy the articles. Enjoy the Fourth of July weekend! Be well, take care, and stay safe!