The stock market continues to hold up even though the economy is still climbing back from a large hole. It feels like a disconnect with reality being the economy is nowhere close to where it was before the virus. We always state that markets are forward-looking past current economic conditions. But are the markets still too optimistic with the current state of affairs? Let's put some numbers to what economists think. Every month, the WSJ surveys 60 top economists for their economic growth expectations. And those economists expect U.S. GDP to fully recover by early 2022. Here is a chart of U.S. GDP growth using their consensus forecast: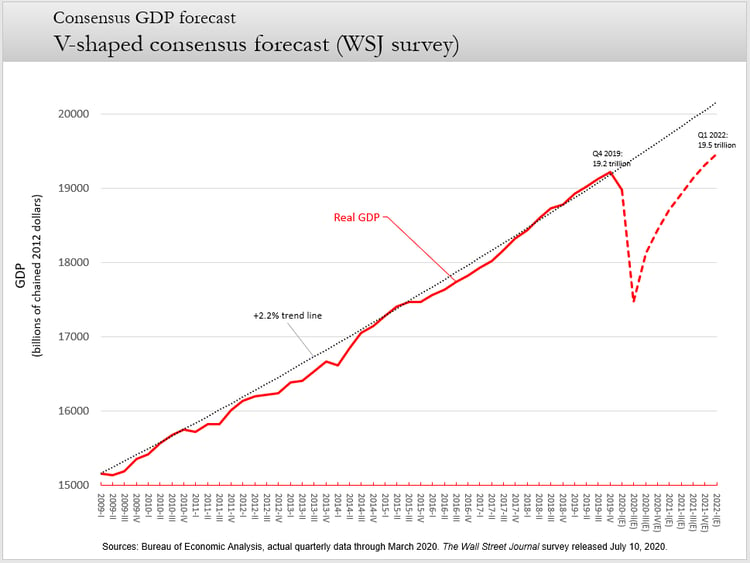 Economists are expecting a V-shaped recovery and a new high for GDP in eighteen months. But economists expect full employment to take longer to recover: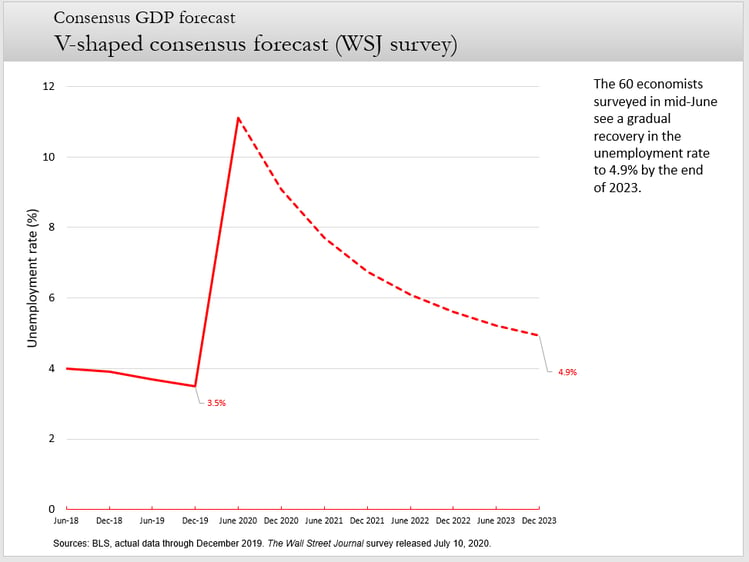 Things can still change as the survey was published on July 10th right about the time new business closures were being announced. There is also the risk that school openings or a delay in a viable vaccine changes the opinion of economists. But as of now, the markets are looking toward the positive trajectory expectations for both the economy and job growth.
Moderna Vaccine Passes Phase Trial: Data from Moderna's coronavirus vaccine was positive. All 45 patients in the trial showed a "robust" immune response. Phase III human trials involving thousands of participants will begin later this month. There are now four potential vaccinations in or starting phase III trials. If they are successful the next step will be getting government approval for widespread use. The closer we get to a viable public vaccination, the more investors and markets will be looking past increasing virus cases and business closures. NIH Moderna New England Journal of Medicine NYT Vaccine Tracker
Next Stimulus Bill Debate to Begin: Next week, the Senate will start discussions on the next bill to support the economy. The discussions will be focused on liability protection for businesses and schools that open, stimulus checks for low-income citizens, support for state and local governments, and additional loan programs. Markets are expecting more stimulus and will be watching closely. Reuters
Private Equity Comes to 401(k) Plans: The Department of Labor ruled that private equity can now be an investment option for 401(k) plans. Many are not happy about the decision and feel the investment class is very expensive, opaque, with underwhelming performance. It is uncertain how soon the new option will be available as providers will decide if and when to include it in plans. We would advise investors to use extreme caution in considering private equity investing in their plan for all the reasons stated as well as the fact performance can vary widely depending on the manager. Forbes
Quick Hit Articles for the Week:
Hong Kong, Tech Wars, and Trade: The United Kingdom banned mobile providers from buying new Huawei 5G technology along with requiring them to remove the firm's existing technology in the coming years. The move based on security reasons as well as China's recent law reducing freedoms in Hong Kong. The developed world has not had a coordinated response to China's unfair trade practices but the Hong Kong issue has struck a nerve. Decades ago the developed world believed increasing economic and cultural ties would lead to China being more open and democratic. The moves in Hong Kong seemed like the last straw killing that belief. The developed world may now start more aggressively delinking ties with China. Welcome to the new Cold War. WSJ The Economist
The Waffle House Index Has a Competitor – Apple Stores: FEMA officials use Waffle House restaurants as an unofficial gauge for how quickly an area is recovering from disasters by tracking the reopening of the 24/7 restaurants. Some are now using Apple stores as a barometer for economic activity during the pandemic. Apple has loads of cash on its books and can afford to quickly act if executives feel the pandemic is spreading in an area and posing a danger to employees and customers. CNN
Longevity: One of the leading researchers in longevity believes our longevity horizons may impact our behavior. Basically, the longer you expect to live, the younger you are going to behave, and vice-versa. One of the best strategies you can employ to help push out your time horizon is exercise. Forbes
Quote: "If you are in a bad mood, go for a walk. If you are still in a bad mood, go for another walk." Hippocrates
Thank you for reading The Friday Buzz. Feedback is welcomed and please forward it to anyone who may enjoy the articles. Be well, take care, and stay safe!