First-quarter company earnings season is in full swing and so far, the news is good. Going into the earnings season investors were looking to see if higher inflation would be a headwind hitting earnings. And companies are reporting solid earnings showing they are navigating a challenging environment of inflation, supply chain issues, labor shortages, and tightening Federal Reserve policy. The number one driver of stock prices is earnings and, as of midweek, the market was reacting positively to the reports and commentaries by companies. CNBC WSJ
How Much Can the Government Influence Inflation Pressures? One of the challenges the Federal government is facing is that certain inflation pressures are difficult to control or influence. By raising short-term interest rates, the Federal Reserve can curtail credit and dampen demand to slow economic growth, but they have less effect on supply issues. U.S. government measures will have little effect on global supply shortages created by the Russia-Ukraine war nor issues created by China shutdowns to control the virus which will reverberate through the entire global economy. The best the government can hope for is to slow demand where it can (such as housing), and then hope the war and COVID restrictions end to help with supply issues. Axios WSJ Axios
Housing Sales Are Down From a Year Ago: Speaking of the housing markets, demand is finally starting to wane. Prices continued to rise, but home sales in March were down 4.5% from a year earlier. Many of those home sales were contracted in January or February when mortgage rates started to dramatically rise. And according to Realtor.com, the average buyer is paying about 38% more on a mortgage monthly payment than they were a year ago which has the potential to dramatically slow demand. Additionally, the construction industry is trying to meet the demand, and the pace of new home construction is accelerating (see chart below). The data over the next few months will be watched to see if higher mortgage rates and more housing stock finally starts cooling the red-hot real estate market. CNBC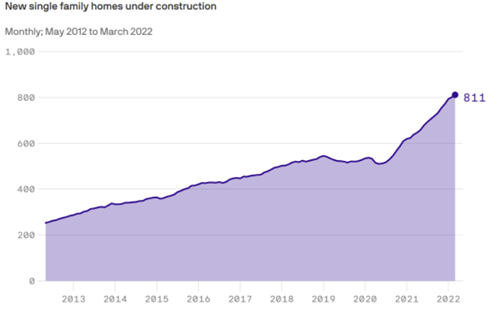 Russia-Ukraine War Notes:
Financial Planning Corner:
Roth IRAs - Know Them and Love Them: We have always touted the benefits of Roth IRAs for financial planning. Your accountant may have mentioned them as you were organizing your taxes this year as well. We will continue to remind clients that Roth IRA assets grow tax-free and give you great financial planning flexibility in the future. And with tax rates set to rise in 2026, it's a good idea to start building Roth assets now. Please reach out to your advisor to discuss the financial planning benefits of Roth's and learn more. RSWA Blog – Roth IRAs: 8 Essential Rules and Strategies to Know
Quick Hits for the Week:
How to Strengthen Your Lower Back & Core: I periodically have stiffness in my lower back. Sitting at a computer all day does not help, but I have started to incorporate more back and core exercises in my week. No doubt about it, my back feels better, so I thought I'd pass along a few exercises that may help others. Lower Back – Medical News Today Core Exercises – Lifehacker
Documentary on Ben Franklin and The Story of His Gifts: I watched the Ken Burns two-episode documentary Benjamin Franklin which was excellent, as always. It is hard not to come away impressed with Franklin's achievements (and a little self-reflection – what am I doing with all my time?). But one topic omitted from the documentary was the story of Franklin's bequests to the cities of Boston and Philadelphia in his will. He gave each town the equivalent of $4000 in today's dollars with specific instructions on how it was to be used over the next 200 years. Both cities grappled with adhering to the instructions on how to spend the funds. Click the links to learn more. Benjamin Franklin – PBS
How a 200-Year-Old Gift from Ben Franklin Made Boston and Philadelphia a Fortune - Mental Floss
Quote: "The good we can do together is more than the good we can do alone." Benjamin Franklin
Bonus quote-for a different perspective after filing taxes earlier this week:
"I like to pay taxes. With them I buy civilization." Oliver Wendell Holmes, Jr.
Enjoy the weekend. Thank you for reading RSWA Financial Advisor Insights! Feedback is welcomed and please forward this to a friend! Be well, take care, and stay safe!