Retail spending was up 0.9% in April, as consumer demand stayed strong. The numbers are not adjusted for prices so they indicate both sustained spending with higher prices. On a year-over-year basis, sales increased 8.2% on the headline number and 10.9% when autos were excluded. The solid increase indicates, despite higher inflation, consumers are still spending. CNBC
And the April report for U.S. factory production reported a rise of 0.8%, twice as high as the expected number. Both the retail sales and factory production numbers indicate a growing economy. Bloomberg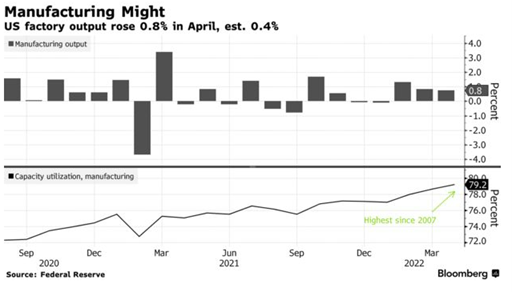 Sounds good, right? But not so fast, as the steep selloff this week showed. Despite the positive April economic numbers inflation is hitting company earnings. Both Target and Walmart reported first-quarter numbers, and even though sales were higher, company earnings were lower. Higher costs for products, shipping, and employees cut into the retailer's profits. Target stated it would try to absorb higher prices and not pass them on to consumers, hoping to trade short-term profit for longer-term market share gains. The reports are a troubling sign for retailers and other businesses that may have to make similarly tough decisions about protecting earnings or risk losing sales and market share. WSJ AP News
This Week's Edition of Fed Inflation Tough Talk: Fed Chair, Jerome Powell, was speaking at a Wall Street Journal event this week here are some of his quotes:
"What we need to see is inflation coming down in a clear and convincing way. We're going to keep pushing until we see that."
"It's been good to see financial markets reacting [to] the way we're speaking about the economy."
"Financial conditions overall have tightened significantly. That's what we need."
"That is going to make it harder for inflation to come down, so it has added a degree of difficulty to what was already a challenging market." (Regarding the China COVID lockdowns and war in Ukraine)
Translation: The stock market sell-off and what some consider the worst beginning four months for the bond market since 1842 will not deter the Fed's plans to raise rates. The inflation numbers are all that matters to the Fed now and they have a tough task ahead. Axios WSJ WSJ
Can We Still Be Optimistic About America? It has been a tough few years in America. It's easy to be pessimistic with the political rancor, divisiveness on major issues, and tribalism running rampant. So, it was nice to read this article about being optimistic about America. If you want to feel a little better about this place, give it a read. After all, Americans are naturally optimistic. NYT Yahoo Survey on Optimism of Americans
Ukraine-Russia War Notes of the Week:
Financial Planning Corner:
The Ultimate Retirement Planning Guide: At RSWA, we are very focused on retirement planning for our clients. This includes budgeting, goal setting, Social Security, Medicare, pension analysis, and the list goes on. I believe it is one of the most important services we provide to clients. With that in mind, we have created a retirement planning guide and posted it on our blog website. It contains a lot of information on many aspects of retirement planning. Give it a look and let us know what you think. And feel free to share it with others! RSWA Blog – The Ultimate Retirement Planning Guide
Quick Hits for the Week:
Eat Your Greens for a Healthy Heart and to Boost Athletic Performance: Research has shown that eating one cup of nitrate-rich vegetables can reduce the risk of cardiovascular disease. Foods such as spinach, arugula, and celery are high in nitrates, and so are other vegetables like beetroot. Research has also shown that foods high in nitrates increase blood flow and oxygen uptake and boost athletic performance. Green smoothie anyone? Verywell Health Plantmedicine.org
Tired of Mowing? Rewild Your Yard: Many homeowners are rewilding their lawns and gardens. They do this by eliminating most pesticides and letting native plants take over. This helps native species and the natural biodiversity thrive. It also reduces the fuel consumption of mowing the lawn and increases your free time. May is the month when many decide to stop mowing. So do more for the environment by doing less in the yard - sounds like a great combo! NYT Wildyards Gardening etc No Mow May Homegrown National Park
Quote: "You can always count on Americans to do the right thing – after they've tried everything else." Winston Churchill
Enjoy the weekend. Thank you for reading RSWA Financial Advisor Insights! Feedback is welcomed and please forward this to a friend! Be well, take care, and stay safe!