Inflation Runs Hot Again in April: The Consumer Price Index climbed 8.3% from a year ago in April. That was a slight decrease from the 8.5% gain in March but was marginally higher than estimates. Excluding the more volatile energy and food prices, core inflation rose 6.2% in April. CNBC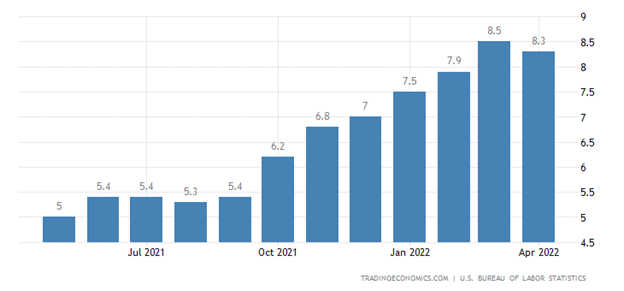 Russian Invasion of Ukraine-No End in Sight: Putin miscalculated badly when he launched an attack on Ukraine, but there is no current path to a peaceful resolution. In the face of forceful Ukrainian resistance, supported by massive U.S. and European aid, Russia stands no chance of conquering the entirety of Ukraine. Putin's downsized objective is to seize and hold strategic territory in southern and eastern Ukraine. CNN Washington Post Anything less will be a defeat for Russia and a material threat to Putin's power. Ukraine is emboldened and has less incentive to concede anything. Putin does not have a face saving out and must be in it for the long haul. Washington Post The massive human suffering will escalate. The conflict will weigh on the global political order and economy. For investors, it means at a minimum significant pressure on energy and food prices for the foreseeable future. We hope this pessimistic take turns out to be wrong. Professor Jeffrey Sachs, one thoughtful voice, argues that Ukraine and Russia should resume negotiations based on a prior framework that collapsed when Russian atrocities surfaced. Project Syndicate
Rich Strike Wins Kentucky Derby in Massive Upset: Some patience may be in order for this one. Following the above notes with comments on a horse race must seem odd at best. Having grown up in the heart of Kentucky's Bluegrass, the Derby is a significant event. With friends who were partial owners of one the leading contenders, this was a year to engage and prepare in advance. The clear consensus was that 6 or 7 horses stood a reasonable chance of winning. Fast forward to the race itself. Rich Strike came charging down the stretch from the back of the field of 20 horses and won in one of the great sports upsets of the ages, paying off at 80-1 odds. Not one "expert" ever mentioned Rich Strike prior to the race except to note that it was a late entrant. My biggest takeaway? Our ability to predict the future is limited at best. It may seem that this is too much of an extrapolation from a sporting event, but there may be a reminder of an important insight here. If all the racing experts in the world are totally blindsided by an event as simple as a two-minute horse race, how can we possibly predict global economies, wars, etc.? Watch the replay here if interested. It was a thriller. YouTube
Roth Conversion in 2022? We are not halfway through the year, but it is not too soon to think about how to capitalize on the current situation. Or as we like to ask, is there a way to make lemonade out of lemons? One strategy that many investors will want to evaluate carefully is a Roth conversion. CNBC With asset values down, will it make sense to convert a portion or all of a traditional IRA to a Roth? The taxpayer will incur income tax on the amount converted but this might turn out to be a deal if those assets rebound to former values post-conversion. For an excellent primer on Roth IRAs, including conversion thoughts, see David Smith's blog. Robinson Smith Wealth
Short Takes:
A Quote to Consider: "Sooner or later, you realize that everything comes down to mindset." Shane Parrish
If you know someone who would like our newsletter, please share it with them.
As always, thank you for reading. Stay safe and be well. We look forward to hearing from you and connecting.